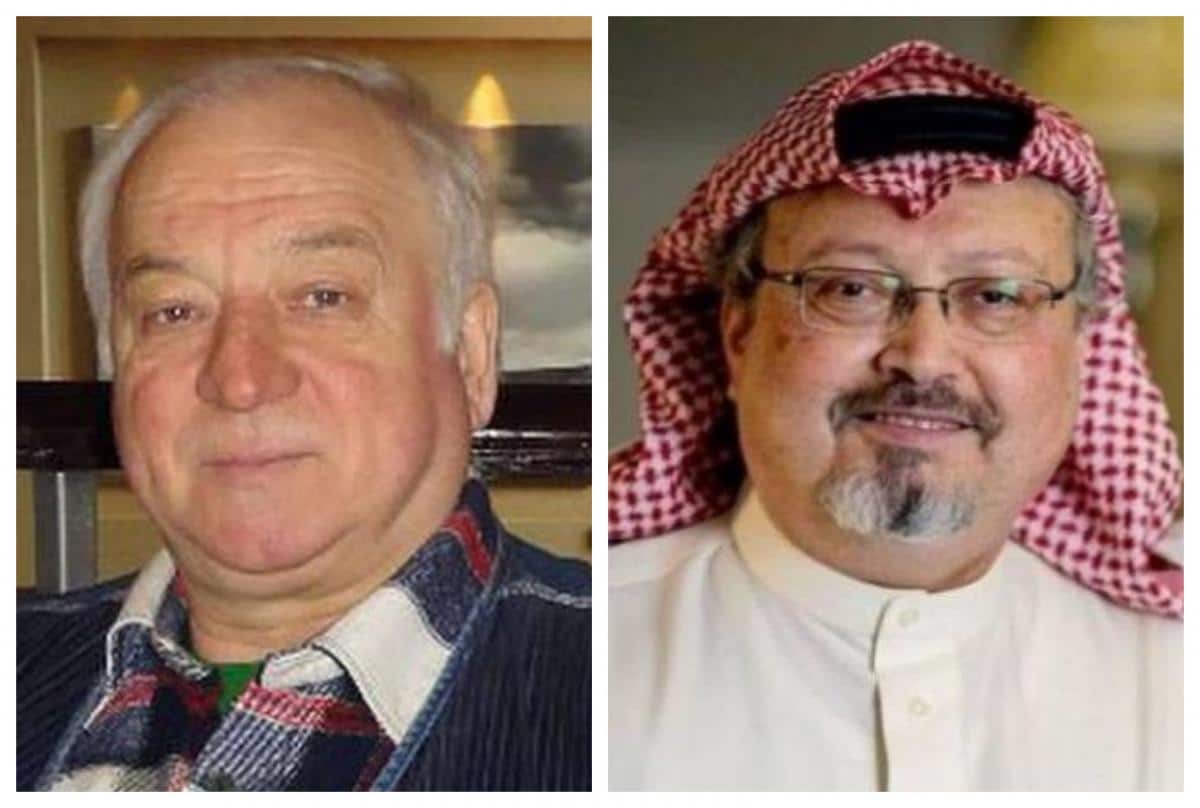 Politics attracts psychopaths like honey attracts bears. Questions of morality are irrelevant for today's politicians, along with questions of principle, honor and integrity — things frequently written about by the great thinkers of the 20th Century, particularly Huxley and Orwell who are more and more referenced particularly in social media these days and rightly so.
On a point of detail, but one of importance and relevance to mention, is the response to Saudi journalist Jamal Khashoggi's "disappearance" being in stark contrast to the West's reaction to the alleged poisoning — note not killing — of Sergei Skripal, the former Russian intelligence officer who worked as a British double-agent, after he was found slumped on a bench in England with his daughter Yulia in March of this year.
You might say to yourself what has the Skripals got to do with the heinous murder of Jamal Khashoggi?
Well for one both Skripals have now "disappeared" in UK. Suffice to say that both men (Khashoggi and Skripal) went "missing" yet examine carefully the different reactions by the international community to both "missing" persons. While by the by no hard evidence of proof of life (or death) of either man was or has yet been produced at time of writing.
A mere eight days after the attack on the Skripals, an enraged Prime Minister Theresa May took to the British House of Commons to assert categorically Kremlin involvement in the incident, a claim that Downing Street still hasn't substantiated more than seven months on. The Prime Minister ordered the expulsion of 23 Russian diplomats from the UK within two days of the incident, a measure that was also taken by the United States and 27 other countries in response to the Salisbury Skripal poisoning. It was the largest expulsion of Russian diplomats from the West since the end of the Cold War. Yet such a move has so far not been suggested against Saudi Arabia in response to evidence of Riyadh's involvement in the murder of Jamal Khashoggi. Quite the contrary.
Crying on Turkish TV, Khashoggi 's fiancé Hatice Cengiz described herself as being in "darkness I cannot express."
She added "His local network in Turkey was very good as you know, his political network as well," Cengiz told the Turkish broadcaster Habertürk in an interview on Friday. "He thought Turkey is a safe country and if he would be held or interrogated, this issue would be swiftly solved."
Cengiz waited hours outside the Saudi Consulate on the day Khashoggi disappeared.
Cengiz, a Turkish academic who became engaged to Khashoggi four months ago, had asked in a recent phone conversation with US Secretary of State Mike Pompeo, whether he had any news following his travels to both Riyadh and Ankara "but he said he didn't."
Previously, Saudi authorities had said that Khashoggi died during a fight with Saudi officials carrying out a rogue extradition operation, and that his body was rolled up in a rug and disposed of by an unidentified third party. His remains have still not been found.
Turkish investigators, however, have leaked information stating emphatically that Khashoggi was tortured before his death and his body dismembered with a bone saw by a 15-man hit team sent to kill him.
The Turkish president, and de facto leader of the controversial Muslim Brotherhood organization, Recep Tayyip Erdoğan, has used the case in a most Machiavellian way. The events surrounding Khashoggi's death and the "game" being played out by Erdoğan was very eloquently and in great detail described by former British parliamentarian George Galloway, who said on TV on Tuesday, 23rd of October:
Erdoğan's definitely doing the dance of the seven veils, who knows when the final veil will be revealed and cast off but there is no doubt he (Erdoğan) has the goods! I know for certain because someone close to me has heard the goods (meaning the audio of the killing). He's negotiating I presume behind the scenes, the price will be going up because frankly if this ordeal is released, if the full picture is released, it will be the most devastating video and audio of the 21st Century. Shakespeare couldn't have written this, it's Macbeth on steroids, right down to the poor son of Khashoggi's who was forced today to go to the Palace to shake hands with the murderers of his father.
Saudi officials' ever-changing stories of what happened have been "comic," Erdoğan said, calling them "childish statements … not compatible with the seriousness of a nation State."
"Who gave that order? If you want to eliminate the suspicion [about you, Saudi], the key question is these 18 people," Erdoğan said.
Meanwhile the fiancé Hatice Cengiz says Trump is not sincere in investigating the case. She told Turkish TV she thought Trump's invitation to the White House to meet him, which she declined, was only aimed at influencing public opinion Internationally and domestically.
Let's remind ourselves: Khashoggi was likely murdered in the Saudi consulate in Istanbul three weeks ago now.
And Riyadh continues to deny the ruling royal family was involved and blames "rogue agents."
Let's remember Saudi Arabia initially denied any knowledge whatsoever of the journalist's fate.
Trump has now said more recently that he is "not satisfied" with the Saudi account even following his phone conversation with the Crown Prince. However while Trump has mentioned the possibility of imposing sanctions, he has also stressed the importance of the two countries' ties and its mutual financial interests. How morally obscene is that in the light of horror said to have happened to Khashoggi?
The President also said it was "possible" Crown Prince Mohammed bin Salman did not know about the killing, which is absolutely impossible, and Trump knows it.
British former MP George Galloway revealed from his sources that an intercepted Skype call from Saudi Arabia with a member of the 15 man hit squad reveals words exchanged to the effect "bring me the dog's head" in reference to Khashoggi.
What has been the European reaction?
Well Germany has stopped arms exports to Saudi signaling, ironically some would say, itself to be one of the only governments on earth with ethical and moral principles in its foreign policy. While France's President Emmanuel Macron said it would be "pure demagoguery to say 'we must stop arms sales'" whatever that means!
Macron added that the sale of weapons "has nothing to do with Mr. Khashoggi. One shouldn't mix everything up," he said on Friday. This is the ultimate in hypocrisy and double-speak. On its own it's a truly despicable and shameful statement.
The European Parliament rather meekly on Thursday passed a "non-binding" resolution urging an EU-wide arms embargo on Saudi Arabia in response to the murder. A meaningless, pointless, and ineffective resolution yet again from Brussels which will amount to nothing.
Equally disturbing was Russia's position: that the Saudi royal family should be believed and that "no-one should have any reasons not to believe them," said Kremlin spokesman Dmitry Peskov. What nonsense.
As mentioned earlier, on Tuesday (23 October) before leaving for the US, Salah Khashoggi was pictured receiving condolences from Crown Prince Mohammed.
As can be seen in the above picture, Khashoggi's son shook hands with the Crown Prince, clearly giving a glaring cold stare during their meeting.
Secretary of State Mike Pompeo reportedly had insisted to the Saudis on his visit there that he wanted Salah Khashoggi, a dual US-Saudi citizen, to be able to return to the US and was "pleased" that this had been granted.
Sources close to the Khashoggi family said that Salah was joining his mother and remaining family in Washington and would stay indefinitely.
CIA Director Gina Haspel travelled to Turkey last week and is now back in the US where she was briefed by Turkish investigators. She has in turn briefed President Donald Trump.
On Wednesday, Turkey's Sabah newspaper said specifically that she had most definitely listened to recordings of Khashoggi's interrogation and death, but gave no details about the contents or how the audio had been obtained.
In the few weeks since Jamal Khashoggi was last seen, a degree of outrage has been expressed by certain sectors of Western media at the possibility of Saudi Arabia's involvement in his disappearance. Has it been enough?
Appearing on CNN's 60 Minutes, US President Donald Trump vowed "severe punishment" for those responsible.
Saudi Arabia has always maintained an excellent relationship with both Britain and the US and more recently with Netanyahu's Israel. Saudi Arabia is the world's number one exporter of petroleum, it also imports weapons worth billions each year, satisfying not only the desires of international defense contractors but also allowing the US in particular to use Riyadh as a bulwark against the influence of Iran, a long time American enemy since the 1979 Islamic Revolution.
A little background is necessary when mentioning Russia. Following a request from the Syrian government of Bashar al-Assad in September 2015, a Russian air campaign began against the Western and Saudi backed Al Qaeda and ISIS factions who had laid waste to the secular nation since March 2011 for purposes of regime change.
This Russian air support played a key role in preventing the Syrian Arab Republic from falling victim to the catastrophic regime change consequences that had befell Libya just four years earlier; it also resulted in rampant Russophobia amongst Western establishment media that consequently led to calls for greater sanctions on Moscow mentioning specifically the alleged unproven attack by Russia on Sergei Skripal.
What makes Russia's position over Saudi's murderous regime very odd is that Russia has been diametrically opposed to the foreign policy aims of the US-NATO-Saudi-Israel hegemony, yet Moscow backs the Saudi Royal family 100 percent as stated earlier.
Breathtaking hypocrisy over Khashoggi's tragic murder has been revealed in the last seven days by many countries. Most singularly one must be sickened by the positions of the superpowers, specifically America, Britain, France, and Russia.
I wonder why those so enthusiastic about "regime change" are not for choosing change in Saudi Arabia and Israel for not least their involvement in mass slaughter in Yemen, Syria, and Gaza.
Such international outcry, not only over the tragic killing of Khashoggi but also the equally illegal mass killings in Yemen, Syria, and Gaza, could herald the beginning of a decent ethical era in international affairs. A very idealistic thought, highly unlikely though it is, but at least a much needed debate should ensue in the media in the name of Justice as the Khashoggi affair details unfolds. Our views, the peoples, the voters views on the need for ethical and moral relationships with other countries, by our political leaders, must be demanded.