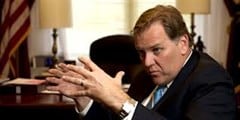 House Intelligence Chairman Mike Rogers (R-MI) seems to be taking a page from his beloved NSA. In an effort to make the claim that spying on the rest of us is more necessary than ever, Rogers has thrown everything but the kitchen sink into the "terrorism" basket. In this way, he has greatly hyped "terrorism" deaths in 2012.
Rogers said on Face the Nation over this past weekend:
We've got al-Qaeda spreading around the world in a way that is frightening. Think about it. Last year alone, some 15,000 terrorist-related deaths.
The reality, points out the Washington Post "Fact Checker" column, is quite different. He is using numbers from the Global Terrorism Database at the University of Maryland, which counts such things as soldier deaths as terrorism deaths. According to the numbers used by the State Department of total terrorism deaths from 2012, the figure is at nearly a third less.
However, when it comes to deaths caused by al-Qaeda or its affiliates, as Rogers implies in his statement, that figure for the period is a mere 1,000.
And how many of those 1,000 deaths were caused by US-backed affiliates of al-Qaeda fighting in Syria?