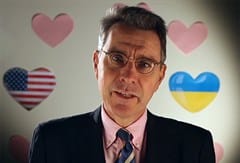 Geoffrey Pyatt is an outlaw. The US Ambassador to Ukraine was caught on tape conspiring with Assistant Secretary of State Victoria Nuland to overthrow the government in Kiev and install leaders of US choosing.
Shortly afterward, after plenty of blood flowed through the streets of Kiev, the smoke cleared and the government had been overthrown in just the manner these two had planned.
Was this an interference in the sovereignty of Ukraine? Of course it was, by definition, as was the millions of dollars funneled through USAID and other US pseudo-NGOs which created a fifth column of revolutionaries in Ukraine.
According to the 1970 "Declaration on Principles of International Law concerning Friendly Relations and Co-operation among States in accordance with the Charter of the United Nations:
[N]o State shall organize, assist, foment, finance, incite or tolerate subversive, terrorist or armed activities directed towards the violent overthrow of the regime of another State, or interfere in civil strife in another State.
Oops. Will Obama soon issue pink slips to Nuland and Pyatt? Then perhaps a trip to the Hague? Not likely.
But the lawless Pyatt has suddenly become the lawman now that his selected group is in power, now that the legal government of Ukraine is overthrown partly with the assistance of his own hand.
Today in the Washington Post, Pyatt lets loose with yet another in an increasing line of hilariously cringe-worthy hypocritical statements from the Obama Administration.
After actively fomenting and supporting the unconstitutional overthrow of the Ukrainian government at the barrel of a gun, Pyatt condemned Sunday's scheduled referendum in Crimea to decide whether to secede from Ukraine and join Russia (where Crimea had been for more than two and a half centuries).
Said Pyatt:
Any increase of the autonomy of Crimea should be done not under the barrel of a gun but in a clear, transparent and constitutional process.
After lawlessness comes the iron rule of law! No wonder the rest of the world — especially China, India — is scratching its head and wondering whether the US ruling class has finally gone completely insane — or, whether in arrogance they truly believe the rest of the world stupid enough to view such statements uncritically.
After the French Revolution the revolutionaries introduced their own new calendar, as if now they controlled even time itself. History began at the moment of revolution. Now we see that only through lawlessness can law be created.