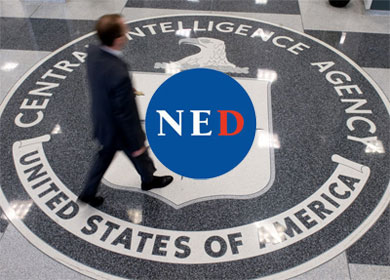 While libertarians are typically known for their opposition to foreign intervention, a recent exposé published by The Intercept showed that libertarians are quietly engaging in missions – with assistance from the federal and corporate partners – to foment regime change throughout the world.
"When there is an opening, you have a crisis, and there is some demand for change, you have people who are trained to push for certain policies," Atlas Network president Alejandro Chafuen said. "And in our case, we tend to favor to private solutions to public problems."
Chafuen has been hard at work remaking politics throughout Latin America, where socialism has waned in recent years. He has many successes to point towards including Argentinian ministers, Bolivian senators, and a "Free Brazil Movement" that was largely responsible for disposing socialist president Dilma Rousseff.
While all of this may seem terrific from a libertarian perspective, the fact that the Atlas Network is a long-time partner of the federal government should raise some eyebrows. Since the 1980's, the Atlas Network has been hand-in-hand with federal partners – such as the U.S. Agency for International Development and the National Endowment for Democracy (NED) – to meddle in the affairs of other nations.
In addition to the federal assistance, the Atlas Network receives a great deal of corporate funding. Tobacco giant Philip Morris has been a frequent funder, giving the organization regular donations including a massive $50,000 contribution in 1994. Additionally, the Atlas Network has received funding from ExxonMobil and MasterCard as well as major support from the unofficial barons of the libertarian movement, the Koch brothers. The network has ties to government officials throughout the United States at all levels, including many close associates in the White House.
Chafuen is most proud of the fact that Judy Shelton, an Atlas Network senior fellow, was made the head of the NED. The NED's mission statement is to manipulate governments around the world into supporting democracy, similar to the rationale President Bush used to invade Iraq. Because of the work of Atlas, a libertarian will now help to shape the future of American interventionist policy.
Reprinted with author's permission from The Liberty Conservative.