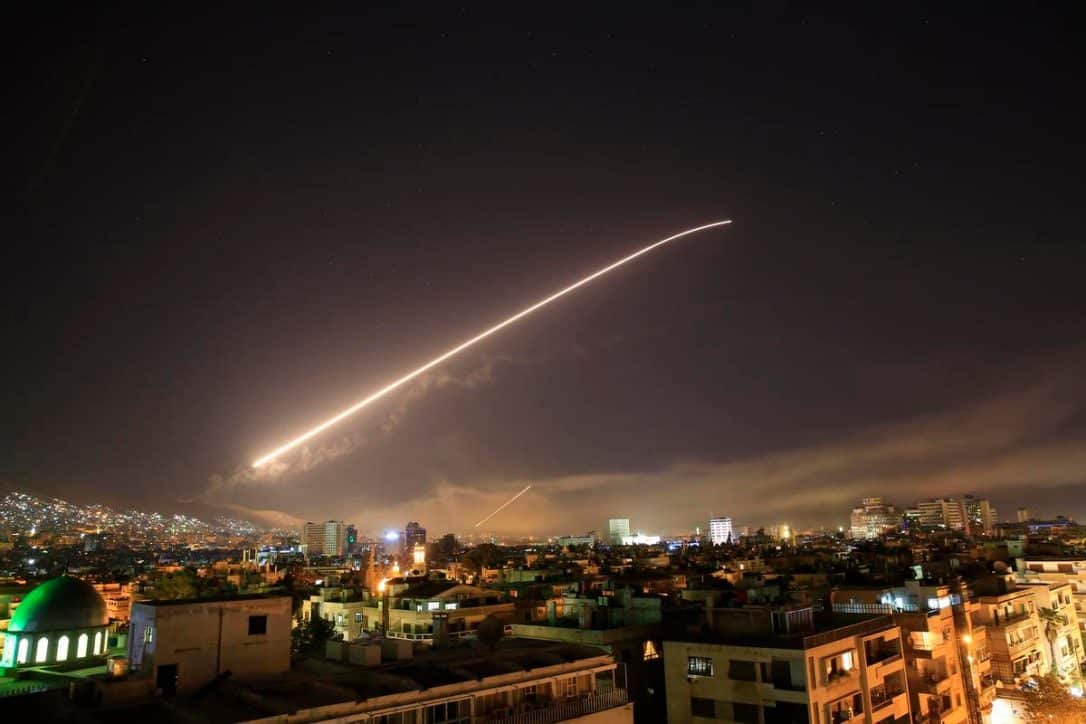 A leaked email last night dramatically indicated that the UN's poison gas watchdog had butchered and censored a critical report on an alleged chemical attack in Syria. If substantiated, the revelations will be severely embarrassing for Britain, France and America, which launched a massive military strike in retaliation without waiting for proof that chemical weapons had actually been used.
Unconfirmed reports and videos, showing the corpses of adults and children foaming at the mouth in Douma, a suburb of Damascus, shocked the world in April 2018 and led to a joint Western attack on the supposed culprit, Syria, in which more than 100 missiles, including nearly 70 Tomahawk cruise missiles, were fired.
Although the reports and films could not be independently verified, as the alleged events took place in a war zone then under the control of brutal Islamist militants, Western governments, and many Western media, took them at face value.
President Donald Trump tweeted at the time: 'Many dead, including women and children, in mindless CHEMICAL attack in Syria. Area of atrocity is in lockdown and encircled by Syrian Army, making it completely inaccessible to outside world. President Putin, Russia and Iran are responsible for backing Animal Assad. Big price to pay. Open area immediately for medical help and verification. Another humanitarian disaster for no reason whatsoever. SICK!'
Britain's then Premier, Theresa May, was equally confident of her facts, saying after the missile launch: 'Last Saturday up to 75 people, including young children, were killed in a despicable and barbaric attack in Douma, with as many as 500 further casualties. We have worked with our allies to establish what happened.
'And all the indications are that this was a chemical weapons attack … We are also clear about who was responsible for this atrocity. A significant body of information including intelligence indicates the Syrian regime is responsible for this latest attack.'
But a dissenting scientist, employed by the Organisation for the Prohibition of Chemical Weapons (OPCW) says in a leaked email that investigations on the ground at Douma have produced no hard evidence that the alleged gas attack took place.
It appears that these facts were deliberately suppressed in published OPCW reports.
The email makes no attempt to suggest what did happen in Douma. It simply points out that hard evidence, gathered and examined by non-political scientists, does not support the officially endorsed version. And it claims that this resulted in the OPCW redacting the report to the extent that its conclusions were misrepresented.
The revelation appears to be the worst instance of 'sexing-up' in support of war since the invasion of Iraq and Tony Blair's doctored dossiers. A whistleblower has made public the astonishing email of protest which was sent to senior officials at the OPCW. It says that the independent scientists' official report on the Douma incident had been slashed and censored so severely that it:
– Misrepresented the facts – by leaving out key information;

– Hid the fact that the traces of chlorine found on the site were merely tiny trace elements, in parts per billion, and in forms that could have been found in any household bleach;

– Contained major deviations from the original report submitted by impartial experts, so that it had 'morphed into something quite different';

– Suppressed a total mismatch between the symptoms allegedly displayed by victims at the scene, and the effects of the chemicals which were actually found. The symptoms seen on harrowing videos shown at the time of the incident simply did not match the symptoms which would have been caused by any material found at the site.
Fair Use excerpt. Read the entire article here.