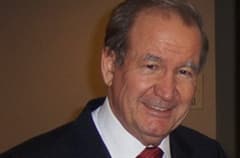 Patrick Buchanan is at his firey and controversial best today with a must-read column on the coming US attack on Syria and those foolishly pushing a war that will surely backfire on its sponsors and on the US.
Here is an excerpt of classic Buchanan, but don't miss the entire article, which you can read today at WND.
If the rebels win, who wins?

Is it the same jihadists who just shelled that Christian village and terrorized that convent of Christian nuns?

Is it the same rebels seen on the front page of Thursday's New York Times about to execute, Einsatzgruppen-style, captive Syrian soldiers, forgetting only to have the victims of their war crime dig their own graves first?

Does the Republican Party really want to own a war that could end with al-Qaida in power or occupying sanctuaries in Syria?

Does the U.S. Jewish community really want to be responsible for starting a war that ends with two million Christian Syrians facing a fate not unlike that of Poland's Jews?

About the debate on this war, there is an aspect of the absurd.

We are told we must punish Assad for killing Syrians with gas, but we do not want Assad's regime to fall. Which raises a question: How many Syrians must we kill with missiles to teach Assad he cannot kill any more Syrians with gas? Artillery, fine. Just no gas.