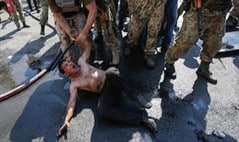 Western media has ignored it, but protesters have occupied the Maidan square in Kiev since last October. They were successful in overthrowing the elected president, Viktor Yanukovych, but they didn't go home. They kept their tents, remained in occupied government buildings, and hunkered down.
Boxer-turned-revolutionary Vitali Klitschko was in the thick of the protests at the time, supported by the United States and its Assistant Secretary of State, Victoria Nuland. In fact, Nuland posed with protest leaders seeking to overthrow the government – including Klitschko – and even famously went down to the Maidan square to hand out cookies to the protesters. In her infamous intercepted telephone conversation with US Ambassador to Ukraine Geoff Pyatt, Nuland made it clear that the US was behind Klitschko and Arseniy "Yats" Yatsenyuk.
When then-President Yanukovych sent police down to the square to break up the violent protests, the US warned him not to crack down on them. Even peaceful moves by the authorities to clear out the square were met with firm US threats of sanctions.
How quickly the world has changed. The revolution is over and the US-favored government is in place in Kiev. "Yats" is Prime Minister. Klitschko is mayor of Kiev. But now, as mayor, he wants to get rid of the protesters.
In contrast to Yanukovych's mostly unarmed forces sent to Maidan, today heavily armed military battalions, known as "Klitschko's people" were sent in to restore order. Tanks have been mobilized. One person has reportedly been killed so far. Not a word from the US. Not a word from Nuland.
Many of the protesters who remained had become disillusioned with the revolution they helped spawn. The Kiev Post quotes Olena Leonova, who was part of the revolution but now feels let down: "…now I see that the new government does not want to listen to people. Almost everything is the same as Yanukovych did."
If they are looking to have a second chance at a real revolution, they had better think again.
What these protesters do not understand is, as Prof. Mark Almond puts it, "Neo-cons never liberate twice." All hell could break loose on those remaining in the square and it would be a non-event in the US and western media. When is the last time we heard a report on the slaughter (warning graphic) of civilians in eastern Ukraine by the US backed regime in Kiev?
All of this brings us back to NATO and its Secretary General Anders Fogh Rasmussen, who is in Kiev today receiving the "Order of Liberty" from Ukrainian President Poroshenko. While Poroshenko's troops roll in to Kiev to put down the protesters, Rasmussen accepts his award with a huge grin. He has no sense of irony, as Kiev burns around him.
Clinton got his statue in Kosovo, Bush got his street in Tbilisi, Georgia, and Rasmussen gets his "Order of Liberty."
Neocons never liberate twice.