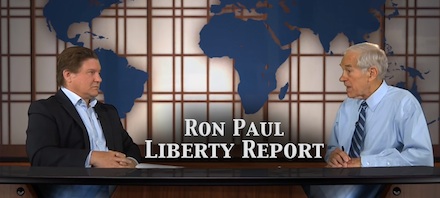 On Friday, in his Lew Rockwell Show interview with Ron Paul, host Lew Rockwell interjected effusive praise for Paul's new show, the Ron Paul Liberty Report. The Ron Paul Liberty Report is a new video program hosted by Paul and Ron Paul Institute Executive Director Daniel McAdams that is streamed live each weekday at noon Eastern time.

Rockwell, near the conclusion of his conversation with Paul, comments:
Ron, just before we go, I just want to mention how great the Ron Paul Liberty Report is. This is your daily show. It's on YouTube. It's free. There's no paywall. You do it with Daniel McAdams, your longtime foreign policy aide in Congress and now head of the Ron Paul Institute. And it's a tremendous show, and Daniel is nice enough to put it on the LRC blog every day….

If you're not seeing the Ron Paul Liberty Report, you're not understanding what's going on in foreign policy and many other issues. It's short. It's smart. It catches your attention. You'll learn a lot. You'll know more than any of the media who's talking about foreign policies and other issues. So, take a look at it.
Listen here to the complete interview. In addition to the Ron Paul Liberty Report, Paul and Rockwell also discuss in the informative conversation matters including governments' "war on cash," the United States Senate voting to give fast track international agreement authority to President Barack Obama, and US military intervention in the Middle East.
---