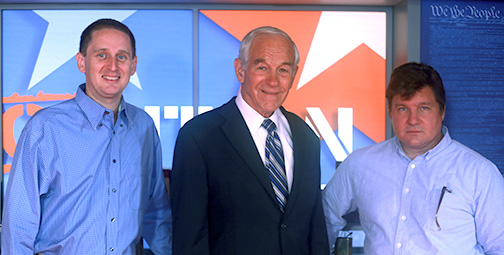 Readers of the Ron Paul Institute's work over the past year or so will most likely recognize the frequent appearance of Adam Dick on the website. Adam has written more than 200 articles and blog posts for the Institute as a part-time contractor.

Dr. Paul and I are very pleased to announce that Adam has now joined the Ron Paul Institute full-time as a senior fellow, with his role expanding to include increased writing and editing, management of RPI programs, and work on special publishing projects. 

Adam was a valued colleague of mine for ten years in Ron Paul's Congressional office in Washington. He was responsible for covering drug prohibition, gun rights, property rights, free speech, religion, and the District of Columbia.

I am so pleased that our success in establishing and growing this Institute over its first year and a half has given the opportunity to bring Adam on board to help share our rapidly increasing tasks and demands.

Like virtually all of Dr. Paul's Congressional policy staffers, Adam was hired from outside Washington and with broad experience in the real world outside government. Before working for Rep. Paul, he was co-manager of Libertarian Party nominee Ed Thompson's 2002 Wisconsin governor campaign. A graduate of the University of Texas Law School, Adam previously worked as an attorney in New York and Connecticut.

I would like to thank all of our supporters for believing in this project, this mission of ours to continue and expand Ron Paul's important work in the promotion of peace and prosperity. Those of you who are interested in our work and who want to see our influence — your voice — continue to grow, please consider making a tax-deductible donation to help us continue spreading Ron Paul's message. We are not getting big checks from the military-industrial complex. Our support comes mainly from small donations. Our audience and donors are beyond "Left/Right" and are worldwide — from Norway to India to Australia to Zambia! If you are able, even a very modest recurring donation would enable us to continue growing your voice. 

Just yesterday, Time Magazine placed the Ron Paul Institute first on its list of Ron Paul's projects that it cannot stand. That is a badge of pride. Please help us irritate more of the mainstream media!

Thank you so much and please welcome Adam to the Ron Paul Institute.
---