Thursday October 10, 2013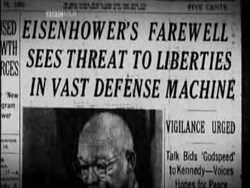 One of the most interesting aspects of President Eisenhower's Farewell Address in 1960 was his warning to the American people regarding the danger that America's military-industrial complex posed to our democratic processes. Eisenhower didn't make it clear whether he was referring to the economic dimension associated with warfare-state spending or to the possibility of a military takeover here in the United States.

Of course, statists would say that there's no way that Eisenhower would have been referring to the danger of a coup here in the United States. He would have had to be talking about the economic danger posed by ever-increasing spending on warfare-state programs, they would say. The United States is the last place where people would have to fear the danger of a military coup.

Eisenhower's successor, John F. Kennedy, however, did not share that sentiment. Kennedy was truly concerned about the possibility of a military coup during his administration, especially given the deep animosity that the military and the CIA had toward his foreign policies, as I outlined in my article "The War Between JFK and the National-Security State." Interestingly, while I may have missed it, I have never come across anyone who has mocked or ridiculed Kennedy for his concern over this possibility.
read on...