Tuesday July 15, 2014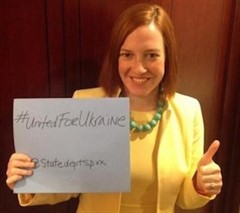 I'm confused. Jen Psaki, US State Department spokesperson, says that the Ukrainian government has "every right" to use air strikes against its opponents in Ukraine on the grounds that it "is defending the country."

Yet in 2011, alleged air strikes by Libyan government forces against its opponents were used as a reason for the imposition of a "no-fly zone" which was followed by a NATO-led military intervention against Libya. We were told that the Libyan leader Muammar Gaddafi was "killing his own people" and had to be stopped. The deaths of over 200 people in Libya was, according to US Secretary of State Hillary Clinton, "unacceptable." But the Ukrainian government is killing its own people today, and despite more than 200 people being killed (as of 10th July the number of civilian deaths was 478, including seven children), western leaders do not say that the Ukrainian leader, Petro Poroshenko, has to be stopped, or that the bloodshed is "unacceptable"

—

 nor are there any calls for a "no-fly zone" to be imposed. Why is it acceptable for the Ukrainian government to launch a military offensive, including air strikes against its own people, but unacceptable for the Libyan government in 2011 to do likewise? I'm confused. Can anyone help me?
read on...