Friday March 14, 2014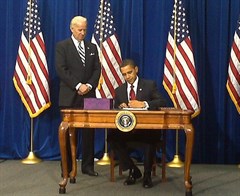 Do you, like 56 percent of the US population, believe that the US should "not get too involved" in the Ukraine situation? Do you think that the US administration putting us on a war footing with Russia is a bad idea? Are you concerned that the new, US-backed leaders of Ukraine -- not being elected -- might lack democratic legitimacy? Are you tempted to speak out against US policy in Ukraine; are you tempted to criticize the new Ukrainian regime?

Be careful what you say. Be careful what you write. President Obama has just given himself the authority to seize your assets.

According to the president's recent Executive Order, "Blocking Property of Certain Persons Contributing to the Situation in Ukraine" (first reported by WND's Aaron Klein), the provisions for seizure of property extend to "any United States person." That means "any United States citizen, permanent resident alien, entity organized under the laws of the United States or any jurisdiction within the United States (including foreign branches), or any person in the United States."
read on...