Wednesday October 15, 2014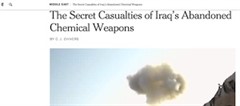 In April 2003, when U.S. officials were still celebrating their invasion and occupation of Iraq as a fantastic success, I wrote an article entitled, "Where Did Iraq Get Its Weapons of Mass Destruction?" Actually though, it wasn't actually an article but rather a list of articles, with links to the listed articles.

One purpose of compiling that list of articles was to show why President Bush, the Pentagon, and the CIA were so certain that Saddam Hussein had weapons of mass destruction when their military forces invaded the country: Because they had the receipts for them.

That's correct: That list of articles I compiled was to make the shocking suggestion that the United States and other Western powers had furnished chemical weapons and other WMDs to Saddam Hussein, the brutal dictator who U.S. officials were comparing to Hitler in their run-up to their military invasion of the country.

Think back to the months leading up to the U.S. invasion of Iraq. There was no talk whatsoever about invading Iraq out of a sense of love for the Iraqi people and the wish to "liberate" them from the tyranny of Saddam Hussein's dictatorship.
read on...