Sunday September 21, 2014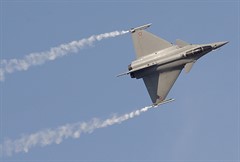 NATO has struck in Iraq. Or, more precisely, two French Rafale warplanes bombed a storage depot in northern Iraq believed to be used by ISIS.

Washington cheered the French attack as the first wave of NATO military operations against the new enemy du jour, ISIS or the Islamic State. French president Francois Hollande, whose abysmal popularity ratings are now lower than Robespierre's, butcher of the French Revolution, was elated by his show of machismo even if French voters were not.

What the French were really doing, of course, was show-casing their new Rafale fighter. There's nothing like bombing Arabs to sell military hardware, as Israel has long shown.

Paris has been desperately trying to sell the Rafale, which is a very capable aircraft, to the Gulf Emirates, Saudi Arabia and India. Delhi signed an order for 126 Rafales in 2012 but has yet to implement it.
read on...