Friday May 16, 2014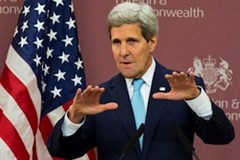 US Secretary of State John Kerry seems to be on a personal mission to draw the US into an invasion of Syria. At the least, he remains determined to continue backing the rebellion against the Syrian government until the country is completely destroyed. 

Meeting yesterday in London, the self-styled "Friends of Syria," including, in addition to the US and UK, such model democracies as Qatar, Saudi Arabia, and Turkey, determined to increase assistance to those who for three years have fought to overthrow the Syrian government. 

Kerry took the opportunity at the meeting to again accuse the Syrian government of using chemical weapons, apparently not at all chastened by his fraudulent claims to the same effect last year. "Raw data" suggests the Syrian government used chlorine gas, Kerry claimed this time. Very raw, no doubt.

Meanwhile, US Defense Secretary Chuck Hagel said on the same day that, "We've not seen any evidence" of additional chemical attacks. It seems that the US administration is at war with itself, with Kerry seeming to go rogue at every opportunity.
read on...