Tuesday June 17, 2014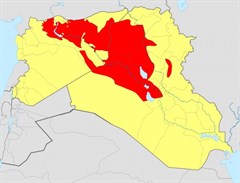 In a nutshell, recent events in Iraq, Syria, Libya, Afghanistan, and Ukraine show there is no grand-strategic focus to America's increasingly militarized foreign policy. A German officer in the old imperial army might say, ''kein Schwerpunkt''!

What we call foreign policy and grand strategy in the 21st Century — i.e., that 'you are either with us or with the terrorists'* — has devolved into a self-righteous welter of bluster, threats, arms transfers, puny demonstrations (e.g., deployments of two or three B-2s), proxy wars, and bombing (especially, targeted liquidations with drones from a safe distance instead of a bullet in the back of the head), all aimed ad hoc in reaction to any crisis du jour. The pattern is more like a giant whack-a-mole game than a sensible grand strategy aimed at ending conflicts on favorable terms, while paying due regard to strengthening our bonds at home and with our allies, undermining the cohesion of our adversaries, and coping efficiently with the internal constraints limiting our actions.

Consider, please, the following: Last month President Obama announced we would extend our stay in Afghanistan — a war we have clearly lost — until the end of 2016. Last week, Mr. Obama, after months of procrastination, said he was considering sending weapons to the Syrian Sunni insurgents fighting President Assad. The most effective of these insurgents are the ISIS Jihadis who are fighting and defeating, as well as stealing or buying weapons from the other insurgents.
read on...