Saturday October 4, 2014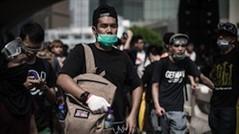 Hong Kong is at a gentle boil. As of this writing, tens of thousands of students have been politely demonstrating, calling for the Beijing-appointed chief executive, C.Y. Leung, to resign and be replaced through free elections.

Politics don't often divert Hong Kong's manic obsession with business and finance, but the upsurge of youthful discontent has presented China with one of its biggest popular challenges since the 1989 Tiananmen uprising – which China insists never happened.

So far, China's Communist Party and its tough new boss, Xi Jinping, have stood back and taken no serious action to curb the peaceful demonstrations. Now, however, protest leaders are threatening to seize government buildings unless Beijing drops plans to select Hong Kong's new government in 2017. This is a direct challenge to Beijing's national authority.

Considering that Beijing is ruthlessly crushing protests by Uighur Muslims in its strategic westernmost province of Xinjiang, Hong Kong's demands for true autonomy and self-rule come at a particularly difficult time for the Communist Party which is feting its 65th anniversary of taking over China.
read on...