Saturday July 12, 2014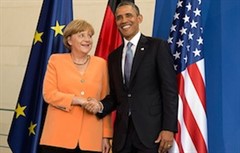 Just how independent is the European Union? Given recent events involving the United States and its European allies, one really must wonder.

First, there was the US National Security Agency brazenly tapping German Chancellor Angela Merkel's private cellphone and, very likely, many more vip's in Germany, a key US ally and Europe's most important nation.

Washington and the NSA shrugged off this horribly embarrassing incident with the usual "well, everyone does it."

Not true. Imagine the stink if Germany bugged President Barack Obama's Blackberry. Chancellor Merkel was humiliated but she downplayed the scandal, unable or unwilling to chastise the US by taking any real punitive action – like closing one of the 69-year old US military bases in Germany.

Next, Britain's Mutual Defense Agreement with the US is up for renewal. This 1958 pact is the foundation of the much ballyhooed US-British "Special Relationship."

This writer has reported for years that Britain cannot fire its nuclear-armed missiles without Washington turning the key via special codes. Now, we learn that Britain's nukes also contain components that only the US can provide. France, at least, has an independent nuclear force.
read on...