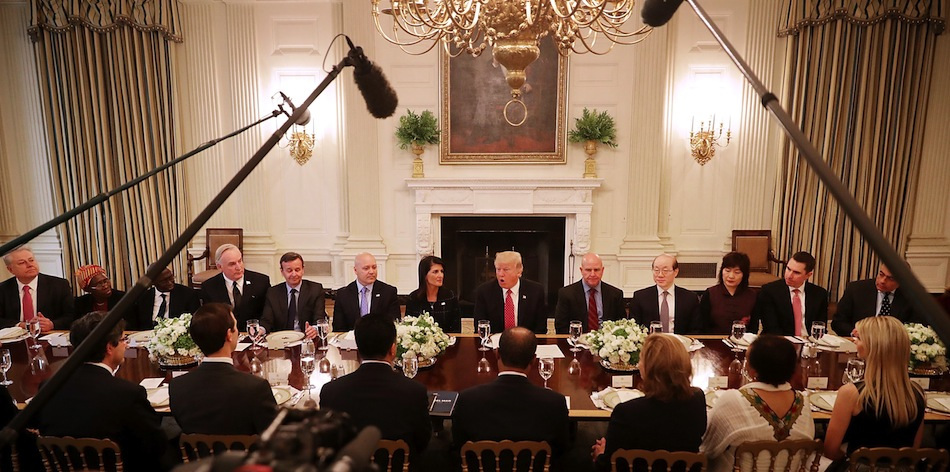 Donald Trump's presidency, like preceding ones, is trapped by the interests of the power elite that has ruled America since World War II. The constraints imposed on domestic policy by this elite inevitably have a direct impact on America's foreign policy. Alternative social forces, like the ones behind Trump's presidential triumph, only have a limited impact on domestic and ultimately on foreign policy. A conceptual detour and a brief on history and on Trump's domestic setting when he was elected will help clarifying these theses.

Beyond the different costumes that it wears (dealing with ideology, international law, and even religion), foreign policy follows domestic policy. The domestic policy actors are the social forces at work at a given point of time, mainly the economic agents and their ambitions (in their multiple expressions), including the ruling power elite. Society's aspirations not only relate to material welfare, but also to ideological priorities that population segments may have at a given point of time.

From America's initial days until the mid 1800s, there seems to have been a broad alignment of US foreign policy with the wishes of its power elite and other social forces. America's expansionism, a fundamental bulwark of its foreign policy from early days, reflected the need to fulfill its growing population's ambitions for land and, later on, the need to find foreign markets for its excess production, initially agricultural and later on manufacturing. It can be said that American foreign policy was broadly populist at that time. The power elite was more or less aligned in achieving these expansionist goals and was able to provide convenient ideological justification through the writings of Jefferson and Madison, among others.

As the country expanded, diverging interests became stronger and ultimately differing social forces caused a significant fracture in society. The American Civil War was the climax of the conflicted interests between agricultural and manufacturing led societies. Fifty years later, a revealing manifestation of this divergence (which survived the Civil War), as it relates to foreign policy, is found during the early days of the Russian Revolution when, beyond the ideological revulsion of Bolshevism, the US was paralyzed between the agricultural and farming businesses seeking exports to Russia and the domestic extractive industries interested in stopping exports of natural resources from this country.

The growing misalignment between government policies and people's yearnings coincides with the ascent of the military establishment within the power elite that rules America. Despite the country's aggressive expansionism, America's power elite was initially driven mainly by political and economic forces and much less by its growing military strength. It is fair to say that the military establishment, as an influential component of the American power elite, only appeared in the context of World War II. Nowadays, it is a dominant player. 

Today's power elite in America is fundamentally the same as the one that emerged after World War II and which was accurately described by C. Wright Mills in the 1950s. Consequently, the main forces shaping US domestic and foreign policies have not changed since then. The collapse of the Soviet Union and the end of the Cold War did not make irrelevant the existing power elite at that time. The elite only became more vocal in its efforts to justify itself and this explains today's existence of NATO, for instance.

Despite its economic and entrepreneurial might, the US distilled version of capitalism is unable to attain the needs of a growing number of its population, as the Great Recession of 2008 has shown. Within the OECD, arguably the club with the highest levels of economic and social development in the world, US rankings are abysmal, for instance concerning education and health, as it lays at the bottom in learning metrics and on critical health measures such as obesity. The wealth gap has widened and the social fabric is broken. American economic decline is evident and growing social conflict across economic, social and geographic lines is just a reaction to this decline.

Trump won his presidency because he was able to get support from the country's growing frustrated white population. His main social themes (bringing jobs to America by stopping the decline of its manufacturing industry, preventing further US consumer dependence on foreign imports and halting immigration) fitted well with the electors' anger. Traditional populist themes linked to foreign policy (like Russophobia) did not play a big role in the last election. But whether or not the Trump administration can align with the ruling power elite in a manner that addresses the key social and economic needs of the American people is still to be seen.

Back to foreign policy, we need to distinguish between Trump's style of government and his administration's actions. At least until now, focusing excessively on Trump's style has dangerously distracted from his true intentions. One example is the confusion about his initial stance on NATO which was simplistically seen as highly critical to the very existence of this organization. On NATO, all that Trump really cared was to achieve a "fair" sharing of expenditures with other members and to press them to honour their funding commitments.

From immigration to defence spending, there is nothing irrational about Trump's foreign policy initiatives, as they just reflect a different reading on the American people's aspirations and, consequently, they attempt to rely on supporting points within the power elite which are different from the ones used in the past.

Concerning China, Trump is learning about the limits of his ability to successfully challenge it economically. It seems virtually impossible to reverse China's momentum which, if it continues, will consolidate its economic domination. A far-reaching lesson, although still being ignored, is that China's economic might is showing that capitalism as understood in the West is not winning, much less in its American format. It also shows that democracy may not be that relevant, as it is not necessarily a corollary or a condition for economic development. Perhaps it even shows the superiority of China's economic model, but this is a different matter. 

As Trump becomes more aware about his limitations, he has naturally reversed to the basic imprints of America's traditional foreign policy, particularly concerning defence. His emphasis on a further increase in defence spending is not done for prestigious or national security reasons, but as an attempt to preserve a job generating infrastructure without considering the catastrophic consequences that it may cause.

On Iran, Obama's initiative to seek normalization was an attempt to walk a fine line (and to find a less conflictive path) between supporting the US traditional Middle East allies (mainly the odd combination of Israel, Saudi Arabia and Turkey) and recognizing Iran's growing aspirations. Deep down, Obama was trying to acknowledge Iran's historical viability as a country and a society that will not disappear from the map, while Saudi Arabia, on the other hand, may not be around in a few years. Trump's Iran policy until now only represents a different weighing of priorities, although it is having far reaching consequences on America's credibility as a reliable contractual party in international affairs.

In the case of Afghanistan, Trump's decision to increase boots on the ground does not break the inertia of US past administrations. Aside from temporary containment, an increasing military presence or a change in tactics will not alter fundamentally this reality.

Concerning Russia, and regardless of what Trump has said, actions speak more than words. A continuous deterioration of relations seems inevitable.

Trump will also learn, if he has not done so already, about the growth of multipolar forces in world's events. Russia has mastered this reality for several years and is quite skillful at using it as a basic tool of its own foreign goals. Our multipolar world will expand, and Trump may even inadvertently exacerbate it through its actions (for instance in connection with the different stands taken by the US and its European allies concerning Iran).

While fulfilling the aspirations of the American people seems more difficult within the existing capitalist framework, there are also growing apprehensions coming from America's power elite as it becomes more frustrated due to its incapacity of being more effective at the world level. America's relative adolescence in world's history will become more and more apparent in the coming years. 

A fundamental weakness of American foreign policy is its inability to understand war in all its different dimensions. The US has never suffered the consequences of an international conflict in its own backyard. The American Civil War, despite all the suffering that it caused, was primarily a domestic event with no foreign intervention (contrary to the wishes of the Confederation). The deep social and psychological damage caused by war is not part of America's consciousness as it is, for instance in Germany, Russia or Japan. America is insensitive to the lessons of history because it has a very short history itself.

Despite the need to see through Trump's true intentions beyond his pomp and circumstance, there is an important warning to be made. Trump's eventual inability to fulfill his promises, combined with his bravado and America's incapacity to take a more sobering approach to world events is a dangerous combination.

Oscar Silva-Valladares is a former investment banker that has lived and worked in North and Latin America, Western & Eastern Europe, Saudi Arabia, Japan, the Philippines and Western Africa. He currently chairs Davos International Advisory, an advisory firm focused on strategic consulting across emerging markets.
---