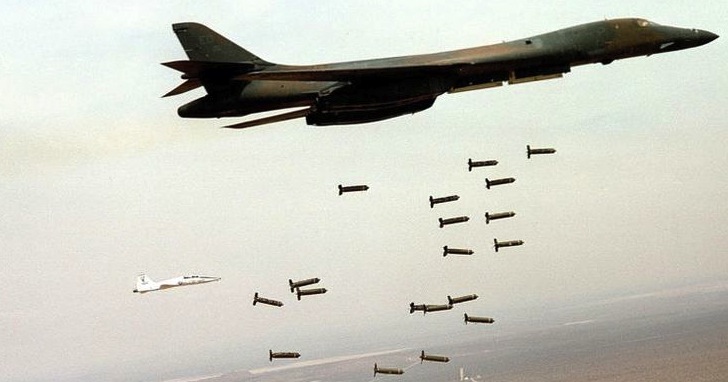 Just hours after Trump made his famously heated vow to unleash "fire and fury" on North Korea if provocations by the Kim regime continued, the US Air Force issued a very clear statement in which it explicitly said that it was "ready to fight tonight," launching an attack of B-1 bombers if so ordered:
'How we train is how we fight and the more we interface with our allies, the better prepared we are to fight tonight,' said a 37th EBS B-1 pilot. 'The B-1 is a long-range bomber that is well-suited for the maritime domain and can meet the unique challenges of the Pacific.'
Now, according to an NBC report, it appears that the B-1 pilot was dead serious, as the Pentagon has unveiled a plan for a preemptive strike on North Korean missile sites with bombers stationed in Guam, once Donald Trump gives the order to strike. Echoing what we said yesterday that war "under any analysis, is insanity", the preemptive strike plan is viewed as the "best option available" out of all the bad ones:
'There is no good option,' a senior intelligence official involved in North Korean planning told NBC News, but a unilateral American bomber strike not supported by any assets in the South constitutes 'the best of a lot of bad options.'
The attack would consist of B-1 Lancer heavy bombers located on Andersen Air Force Base in Guam, a senior acting and retired military officials told NBC news.

"Of all the military options … [President Donald Trump] could consider, this would be one of the two or three that would at least have the possibility of not escalating the situation," retired Admiral James Stavridis, former Supreme Allied Commander Europe and an NBC News analyst, said.

Why the B-1?
Military sources told NBC News that the internal justification for centering a strike on the B-1 is both practical and intricate. The B-1 has the largest internal payload of any current bomber in the U.S. arsenal. A pair of bombers can carry a mix of weapons in three separate bomb bays — as many as 168 500-pound bombs — or more likely, according to military sources, the new Joint Air-to-Surface Standoff Missile — Extended Range (JASSM-ER), a highly accurate missile with a range of 500 nautical miles, allowing the missile to be fired from well outside North Korean territory.
There is another important consideration: according to one senior military officer, "the B-1 has also been selected because it has the added benefit of not being able to carry nuclear weapons. Military planners think that will signal China, Russia, and Pyongyang that the U.S. is not trying to escalate an already bad situation any further.

The plan explains why in recent weeks pairs of B-1s have conducted 11 practice runs of a similar mission since the end of May, the last taking place on Monday, around the time Trump and Kim were exchanging unpleasantries in the media, with the training has accelerated since May, according to officials. In an actual mission, NBC notes that the non-nuclear bombers would be supported by satellites and drones and surrounded by fighter jets as well as aerial refueling and electronic warfare planes.

There are currently at least six B-1 bombers on Andersen Air Force base, which is located some 3,200km from North Korea. If given the command, these strategic bombers would target around two dozen North Korean "missile-launch sites, testing grounds and support facilities" according to sources cited by NBC.

Asked about the B-1 bomber plan, two U.S. officials told NBC News that the bombers were among the options under consideration but not the only option. NBC points out that "action would come from air, land and sea — and cyber."

Of course, as we elaborated yesterday, striking North Korea is certain to prompt an immediate and deadly response that could involve targets as near as Seoul, just 40 miles from the border, or as far away as Andersen AFB, according to Adm. Stavridis.

The use of the B-1 bombers to actually drop bombs and destroy Korean infrastructure and kill North Koreans would cause an escalation," said Stavridis. "Kim Jong Un would be compelled to respond. He would lash out militarily, at a minimum against South Korea, and potentially at long-range targets, perhaps including Guam. … That's a bad set of outcomes from where we sit now."

"Diplomacy remains the lead," said Gen. Terrence J. O'Shaughnessy, the U.S. Pacific Air Forces commander, after the B-1 bombers' late May training run. "However, we have a responsibility to our allies and our nation to showcase our unwavering commitment while planning for the worst-case scenario. If called upon, we are ready to respond with rapid, lethal, and overwhelming force at a time and place of our choosing."

* * *

Finally, should the worst-case scenario be put in play, and conventional war is launched, here is what Capital Economics predicted would be the drastic economic consequences from even a contained, non-nuclear war.
North Korea's conventional forces, which include 700,000 men under arms and tens of thousands of artillery pieces, would be able to cause immense damage to the South Korean economy. If the North was able to set off a nuclear bomb in South Korea, the consequences would be even greater. Many of the main targets in South Korea are located close to the border with the North. The capital, Seoul, which accounts for roughly a fifth of the country's population and economy, is located just 35 miles from the North Korean border, and would be a prime target.


The experience of past military conflicts shows how big an impact wars can have on the economy. The war in Syria has led to a 60% fall in the country's GDP. The most devastating military conflict since World War Two, however, has been the Korean War (1950-53), which led to 1.2m South Korean deaths, and saw the value of its GDP fall by over 80%.


South Korea accounts for around 2% of global economic output. A 50% fall in South Korean GDP would directly knock 1% off global GDP. But there would also be indirect effects to consider. The main one is the disruption it would cause to global supply chains, which have been made more vulnerable by the introduction of just-in-time delivery systems. Months after the Thai floods had receded in 2011 electronics and automotive factories across the world were still reporting shortages.


The impact of a war in Korea would be much bigger. South Korea exports three times as many intermediate products as Thailand. In particular, South Korea is the biggest producer of liquid crystal displays in the world (40% of the global total) and the second biggest of semiconductors (17% market share). It is also a key automotive manufacturer and home to the world's three biggest shipbuilders. If South Korean production was badly damaged by a war there would be shortages across the world. The disruption would last for some time – it takes around two years to build a semi-conductor factory from scratch.


The impact of the war on the US economy would likely be significant. At its peak in 1952, the US government was spending the equivalent of 4.2% of its GDP fighting the Korean War. The total cost of the second Gulf War (2003) and its aftermath has been estimated at US$1trn (5% of one year's US GDP). A prolonged war in Korea would significantly push up US federal debt, which at 75% of GDP is already uncomfortably high.


Reconstruction after the war would be costly. Infrastructure, including electricity, water, buildings, roads and ports, would need to be rebuilt. Massive spare capacity in China's steel, aluminum and cement industries mean reconstruction would unlikely be inflationary, and should instead provide a boost to global demand. The US, a key ally of South Korea, would likely shoulder a large share of the costs. The US spent around US$170bn on reconstruction after the most recent wars in Afghanistan and Iraq. South Korea's economy is roughly 30 times larger than these two economies combined. If the US were to spend proportionally the same amount on reconstruction in Korea as it did in Iraq and Afghanistan, it would add another 30% of GDP to its national debt.
Naturally, should North Korea manage to successfully launch a nuke, the devastation, economic and otherwise, would be orders of magnitude greater.

Reprinted with permission from ZeroHedge.
---