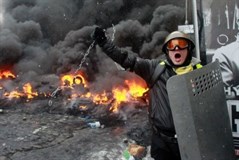 To discuss the Ukrainian crisis in terms of a choice between Europe and Russia is misleading for several reasons.
First, the European issue has been ruthlessly exploited by the Ukrainian opposition and its Western backers as an excuse for overthrowing the government illegally and by force. Opposition leaders have never distanced themselves from the most radical elements on the streets of Kiev, even though these include neo-Nazis. On the contrary, they have done everything to use their violence as a bargaining chip in their battle with the government. Let us never forget that the majority of the 25 deaths on the night of 18 – 19 February were murders committed by the protesters:  9 policemen were shot dead or stabbed to death, while 3 members of the governing party and a journalist were also killed.
Second, the choice Ukraine faced between the EU and Russia was not an equal one.  The EU association accord was a comprehensive political straitjacket designed to lock Ukraine into the orbit of Brussels and Washington by installing, as all over the EU itself, a pro-EU (and ultimately pro-NATO) elite whose policies would remain unchanged whichever team was in power. By contrast, Ukraine's agreements with Russia are confined to a free trade zone and, lately, loans.  They carry no internal political implications at all.  Even the Customs Union of Russia, Kazakhstan, Belarus and Armenia, which Ukraine will probably not now join, takes decisions by consensus: it has none of the heavy-handed supranational and technocratic control of Brussels.

Read the rest.
---